Low Profile Adapt Rail System Rifle
Brand:
APS
Product Code:
ASR116
Reward Points:
600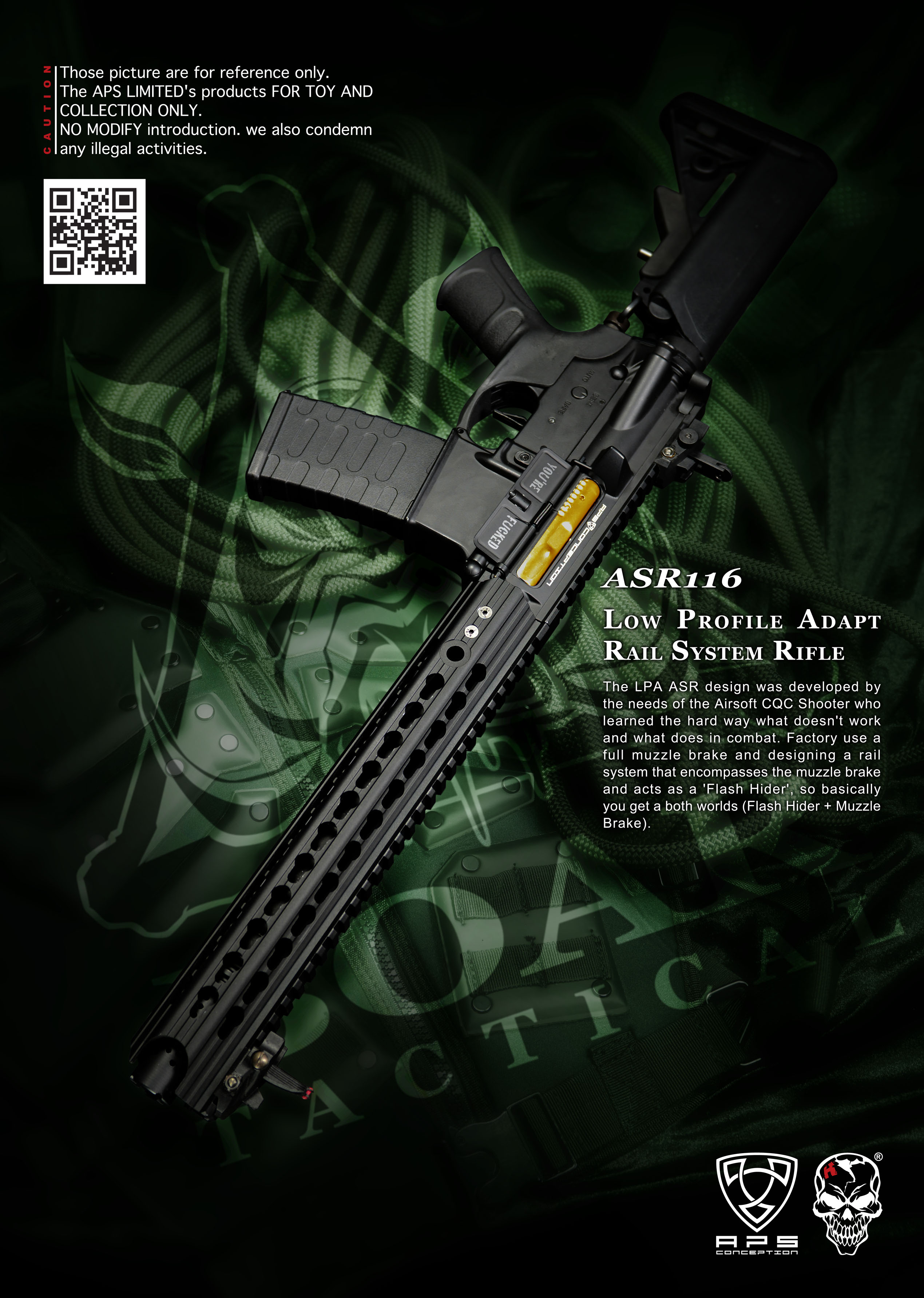 New ASR116 is now available in Dec 2014. This gun standard comes with a 12.5" Low Profile Adapt Hand Guard using KeyMod System. The KeyMod System intended to be used as a direct attachment method for accessories such as flash light, laser modules, sights, scope, barricade supports and many others. This gun comes with 3x MIL-STD 1913 rails, make it more tactical in operation.
Features of the ASR116:
- New Flip Up Athena Sights (All in one Pistol and Rifle Sights together)
- 8mm Full Bearing Silver Edge Electric Blow Back Gear Box
- Reinforced Titanium coated Recoil Plate
- Ergonomics Rubber Feel Pistol Grip
- 6 positions adjustable Crane Stock
Silver Edge Gear Box
ASR116 standard comes with Silver Edge Gear Box. - An unique technology that is being used to polish and buff the Gear Box surface, which leads to an extreme smoother and brighter finish. This kind of finishing remove burrs and other surface flaws. Less friction of the gear box parts will result in lower ampere. With the use of 8mm German made bearing bushing, bearing Spring Guide and bearing piston head, the running of the Gear Box is so smooth that with Blow Back Function On, the ampere is just under 12A. It saves the battery and increases the durability of your gear box in all time.
Caliber: 6mm BB
Inner barrel size: 6.04mm
Energy Source: 8.4v Ni-MH Battery
Silver Edge Gear Box Installed
8mm Bearing Bushings
Velocity: 280~390 FPS (Upon Request)
Canada Version 395 FPS @ 0.2g BB
Maximum Range: 80 Meters
Effective Range: 30 Meters
Fire Selector: Safe / Semi Auto / Full Auto
Plastic Butt Stock, Pistol Grip and Magazine
Metal Body, Gear Box, KeyMod Hand Guard
Rate of Fire: 750 ~ 850 Rounds Per minute
Magazine Capacity : 300 Rounds
Weight: 3.8kg
Write a review
Your Name:
Your Review:
Note: HTML is not translated!
Rating:
Bad
Good
Enter the code in the box below:
Powered By OpenCart APS Conception © 2018