Salient Arms International MKII-SAI
Brand:
EMG
Product Code:
CAM MKII-SAI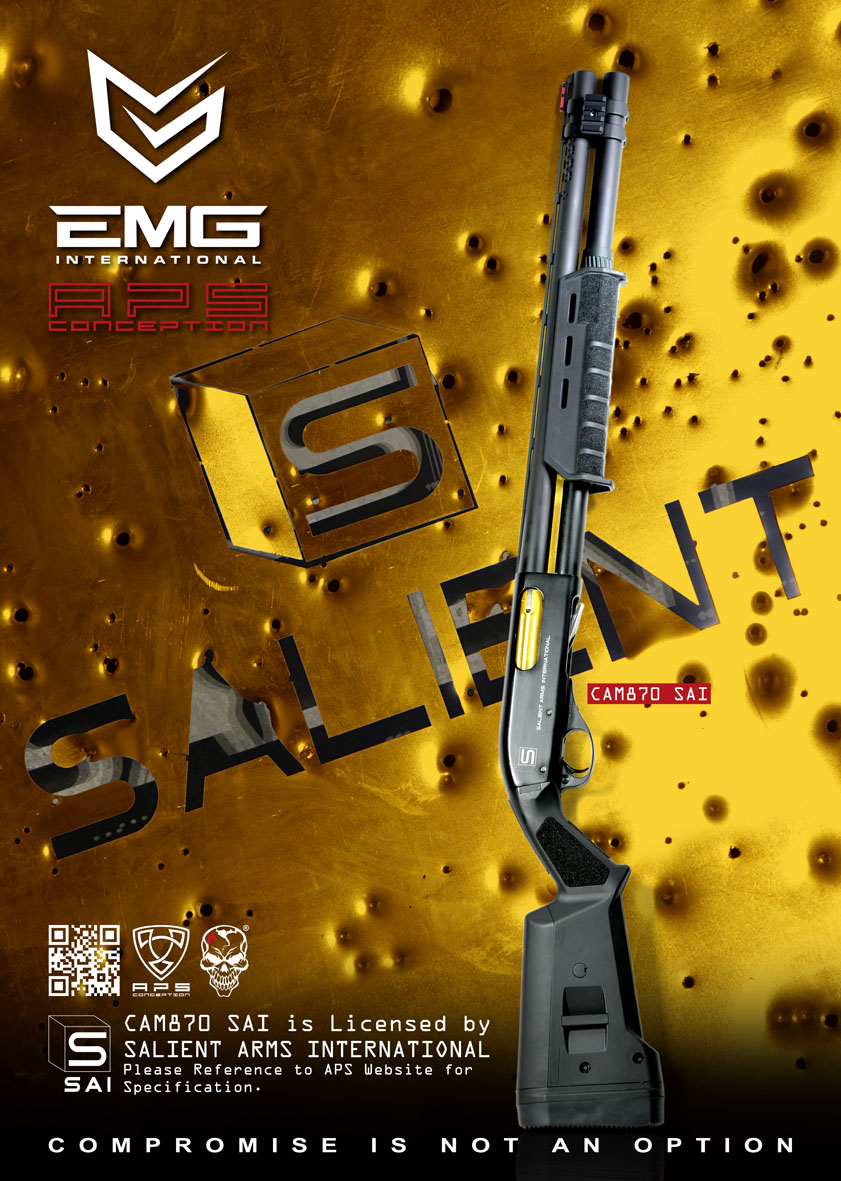 SAI870 Shotgun – Salient Arms International Authorized Product.
You shouldn't have any doubt about Salient Arms Products. SAI has long been famous in making upgrade parts for real firearms. Nowadays, SAI is a trademark of high quality upgrade and innovation. In 2016, APS granted the license from EMG and SAI to make a superb 870 that is designed for the perfectionist. This shotgun featuring in:
Standard Aluminum Gas Bolt MKII
Barrel mount with Rail Adapter
Reinforced titanium coated bolt, forend cradle, Magazine Cradle, C Plate
Magpul Forend and Butt Stock (Original/ Stippled)
Stainless Steel Carrier Plate
Modifed loading Port
Fiber Optic Front Sight
Salient Arms Licensed Trademark

Caliber: 6mm BB
Outer barrel size: 18mm
Energy Source: Rechargeable Co2 Gas Bolt
Velocity: 220 ~ 260 FPS @ 0.2g BB x 12 (Shower Mode)
Maximum Range: 20 Meters
Effective Range: 12 Meters
Fire Selector: Safe / Fire
Plastic Hand Grip and Forend
Metal Body
Rate of Fire: Pump Action Single Shot
Shell Capacity : 7 + 1 Rounds
Length 100cm(L) x 12cm(H) x 3.8cm(W)
Weight: 2.7 kg
Package includes:
1 x CAM MKII-SAI Gun
1 x 88g Charing Adapter
2 x Cartridge Shells
1 x Catcher Bag
50 x Wad
50 x Sealing Paper
Write a review
Your Name:
Your Review:
Note: HTML is not translated!
Rating:
Bad
Good
Enter the code in the box below:
Powered By OpenCart APS Conception © 2018