Phantom Extremis Rifles MK4 Black
Brand:
APS
Product Code:
PER704
Reward Points:
600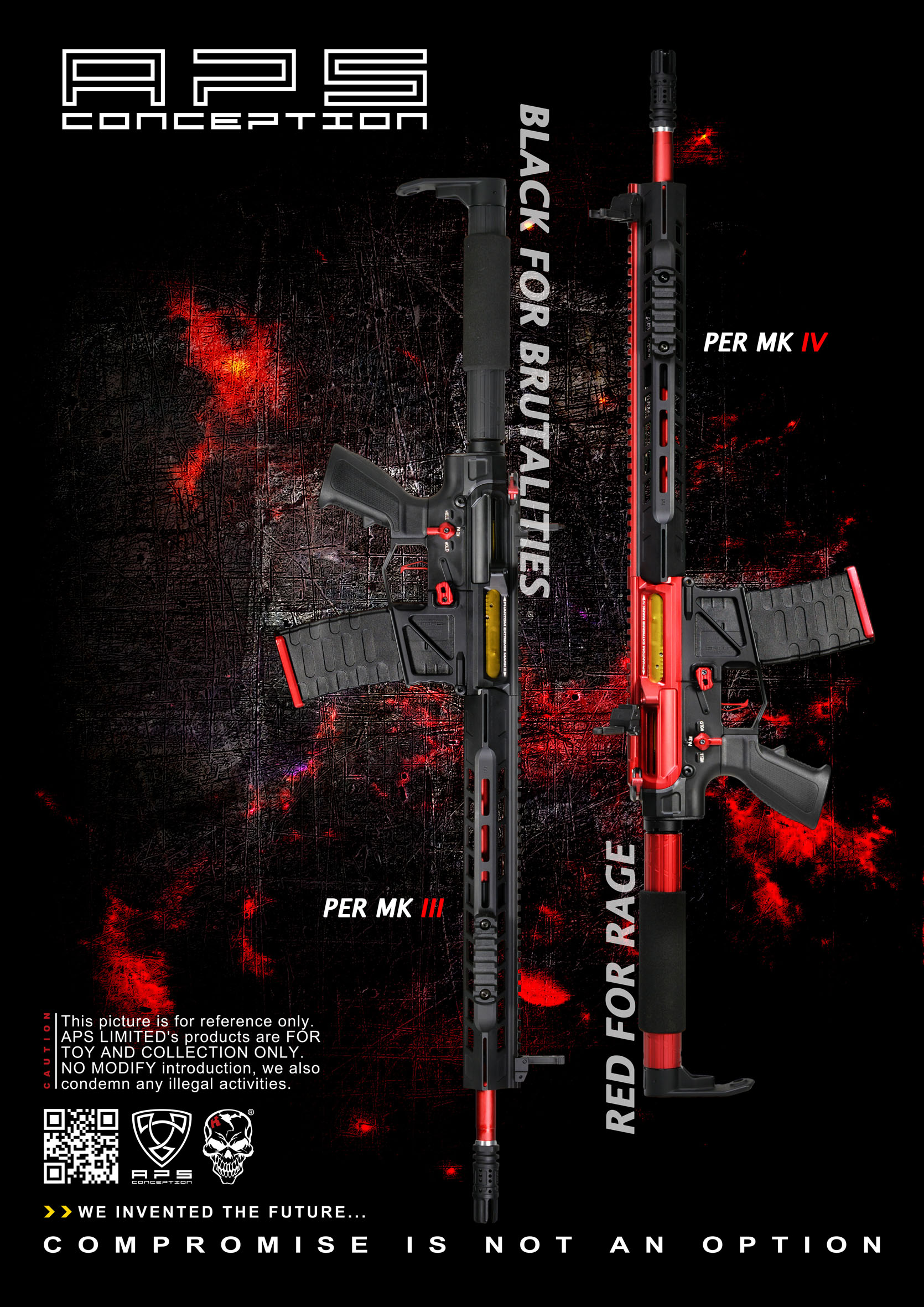 With the success of quick change spring system used on APS Phantom Extremis Rifles, user is excited on how easy to change the main spring on these rifles without necessary to take the whole gear box out. APS continues to use this design on our new Airsoft rifles named PER-MKIV
Phantom Extremis MKIV for 13.5" M-LOK hand guard
The longer the stronger
PER-MKIV standard comes with 420mm inner barrel with 13.5" hand guard. Generally speaking, the longer of the inner barrel, the higher FPS it can achieve. Standard velocity is 400 FPS out of the box, this is an ideal weapon for outdoor play.
Eye Catching Color
Red & Black color combination on this gun looks attractive. The red colored trigger, button, barrel and magazine base cover make you look cool during Airsoft Games.
Milled Receiver
PER-MKIV is a tactical rifle that built for the user. It is a light weighted rifle where the receivers are structurally milled for reduced weight and aesthetics. The CNC machined upper receivers allow user can see the painted gear box inside from its opening, which is bold.
M-LOK Hand Guard
PER-MKIV used slim and light weighted hand guard with modular locking accessory mounting system (M-LOK) designed by Magpul Industries. The hand guard has a Hand Stop implied, which give your support hand a low profile anchor point on the forend.
Quick change spring system
Same as previous PER Model, the lower receiver comes with quick change spring features, user can simply remove the buffer tube and reach the gearbox's spring guide to do spring replacement easily. Save the effort on dissembling the whole gun and take the gear box out from the receiver for spring change.
Advanced Pistol Grip
Phantom overload pistol grip is used in our PER Rifles. This Non-Slip EVA plastic grip in the front and rear increase the comfort of holding it. The pistol grip has shock absorption deign in the interior that reduce the vibration generated from the start up of the motor, thus relatively improve the motor performance and significantly reduce the battery loading to 10.5 Ampere.
Full Ambidextrous Design
Magazine release catch, Fire Selector and charging handle are all ambidextrous design benefits both left handed or right handed.
Other cool features
Flat Trigger is used in these guns which gives you an enhance control and lighter perceived weight when triggering. Stylish Tron stock is used. The stock tube is made by high grade aluminum. As long as the button on the stock is pressed, the back plate can be removed and you can install lithium battery inside the tube easily. The weight of this stock is less than 350g; compare to other retractable stock that use buffer tube, our light weighted stock is more practical in use.
To conclude, APS New PER-MKIV is a eye catching Airsoft gun. It is a strong and durable. We put all the advance features like colored Ambi switches and button for the players. As quick change spring Silver Edge Gear Box is highly reputed in the market, this PER rifle make full use of quick change spring function that benefits the user. We strongly believe this rifle will dominate the market in 2017.
Caliber: 6mm BB
Inner barrel size: 6.04mm
Energy Source: 8.4v Ni-MH Battery
Silver Gear Box Installed
8mm Metal Bushings
Velocity: 280~400 FPS (Upon Request)
Canada Version 400 FPS @ 0.2g BB
Maximum Range: 80 Meters
Effective Range: 30 Meters
Fire Selector: Safe / Semi Auto / Full Auto
Plastic Hand Grip and Magazine
Metal Body, Gear Box, Butt Stock and Hand Guard
Rate of Fire: 750 ~ 850 Rounds Per minute
Magazine Capacity : 300 Rounds
Write a review
Your Name:
Your Review:
Note: HTML is not translated!
Rating:
Bad
Good
Enter the code in the box below:
Powered By OpenCart APS Conception © 2017