Phantom Extremis Rifles MK6 CRS
Brand:
APS
Product Code:
PER706
Reward Points:
600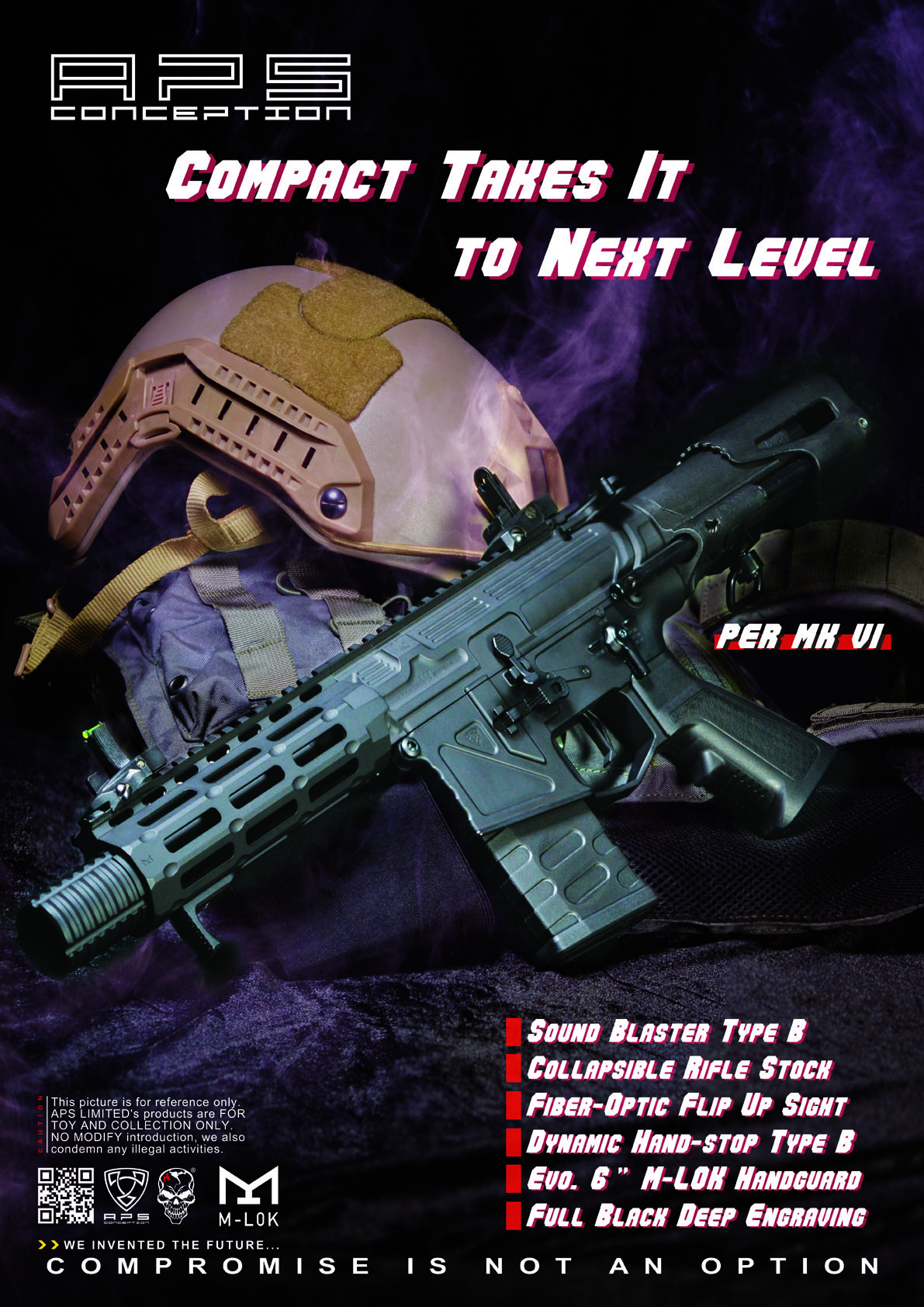 Phantom Extremis– PER MK-VI – with Collapsible Rifle Stock
With the success of PER705, APS continues to develop its Phantom Extremis Rifle and provide more variants to the market. A new PER rifle – The PER MK-VI is now available. This rifle inherits all the advanced features came from its family. For instant, quick change spring system, M-Lok hand guard, Advanced pistol grip, Full ambidextrous fire selector, magazine release and charging handle…..etc. Nevertheless, APS did not complacent but adding more cool features in this new gun, especially a new telescoping stock is being used in this rifle.
Collapsible Stock
CRS butt stock is a telescoping stock being used in this rifle. With a press of a button underneath, the rapid deployment system instantly springs to the extended position for user. A sloping cheek weld to provide consistent and comfort in any 4 positions. It standard comes with sling mount with removable one point sling swivel accept 1" - 1.25" webbing sling use.
Large Battery compartment
Another important feature in this gun is the large battery compartment on the CRS butt stock. Compartment door is located on the top secured by a pin. It is easy to reach and overall room size 117 x 32 x 31cm, so it fits most the Li Po battery in the market.
Flexibility
The CRS butt stock used in this rifle is light weighted (450g) and durable (Made of Mil-Grade Polymer). There are 3 adjustments plus fully collapsed for 4 total positions for different shooter and different scenario use. The gun is only 52.5cm long (about 20.5 Inch), The lower shoulder support is removable, user can change the style of the stock as their wish, which made this rifle small, flexible, short and pithy in use.
Sound Amplifier Flash Hider
PER MK-VI comes with a new sound amplifier flash hider named "Sound Blaster Type B". This sound amplifiers muzzle increase the sound of firing your airsoft gun for an awesome added intimidation factor. This flash hider comes with spiked teeth on the edge that provides murderous look to the Airsoft players!
Deep Engraving Text and Logo
In this new PER MK-VI, all the text and logo were made by deep engraving. The marking, logo and text were sharp and clear, which makes the gun looks attractive, elegant and precious.
Evolution Tech 6" M-Lok Hand Guard
PER MK-VI is using 6" Evo Tech M-Lok Hand Guard. M-LOK stand for Modular Locking system, it is a firearms accessory mounting system developed by Magpul Industries that allows for direct attachment to negative space mounting points. APS granted the permission to use M-LOK system on the hand guard, as well as making M-LOK accessories like the new Dynamic hand stop being used on this rifle.
Athena Flip Up Fiber Optic Sights
This rifle comes with Athena fiber optic front sight and a rifle/pistol rear sight. They are mounted on a Mil-STD 1913 Picatinny Rail. They both have flip up function, The front sights use 1.5mm fiber optics so you can aim and point to the target quick and easy, which is ideal for CQB shooting.
Caliber: 6mm BB
Inner barrel size: 6.04mm
Energy Source: 7.4v Small Type LiPo recommended (Wired to stock with small Tamiya connector)
Silver Gear Box Installed
8mm Metal Bushings
Velocity: 280~360 FPS (Upon Request)
Canada Version 400 FPS @ 0.2g BB
Maximum Range: 80 Meters
Effective Range: 30 Meters
Fire Selector: Safe / Semi Auto / Full Auto
Plastic Hand Grip, Butt Stock and Magazine
Metal Body, Gear Box and Hand Guard
Rate of Fire: 750 ~ 850 Rounds Per minute
Magazine Capacity : 300 Rounds
Write a review
Your Name:
Your Review:
Note: HTML is not translated!
Rating:
Bad
Good
Enter the code in the box below:
Powered By OpenCart APS Conception © 2018