AG Pistol M1911 Marcux
Brand:
APS
Product Code:
AG802
Reward Points:
600
Availability:
Out Of Stock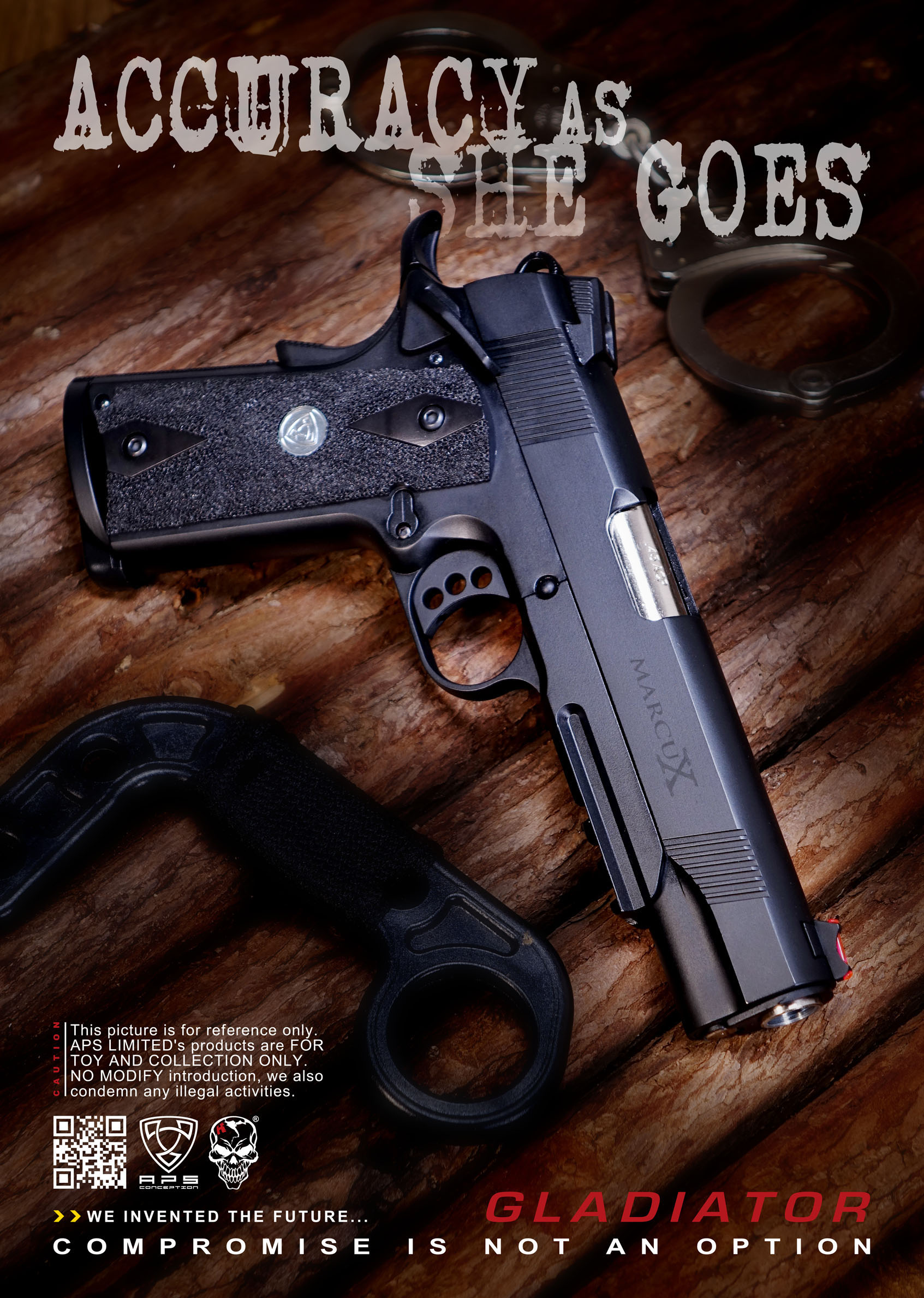 M1911 is called "American Gun" because of its popularity and long history of service. APS want to make a handgun that could shoulder the name of this legendary weapon. After 2 years of R&D, base on Airsoft M1911 design, APS makes a new Airsoft pistol called "Gladiator". Model named by Roman fighter "Marcux" and "Crxius" to show its combat ability.
Marcux:
· Body coated in matte black, which highly imitate the original M1911 and improve endurance.
· Reinforced cold-resistant Nozzle used.
· Wear-resistant and cold-resistant airtight rubber used.
· Equipped with Turbo Mags designed for Top Gas/ 134a use (Shoot over 40 rounds per charge)
· Mil-Std 1913 Picatinny Rail installed.
· Replaceable grip pad standard comes with stippling
· Hammer Protector Included
· Fiber Optic front sight installed.
To conclude, M1911 is a legendary weapon proudly made by American. Just the US procured around 2.7 million piece of 1911 in military contracts during service life. This model is so popular that not only the military but also widely present in various competitive matches in civilian use. APS listen to user and built product for user, so we put this new pistol in the market and keep the APS way of not copying but adding innovation to a product, "Gladiator" M1911 is now born!
Caliber: 6mm BB
Inner barrel size: 6.03mm
Energy Source: Refillable Green Gas / Top Gas
Velocity: 250 ~ 280 FPS
Maximum Range: 60 Meters
Effective Range: 35 Meters
Fire Selector: Safe / Semi Auto
Magazine Capacity : 25 + 1 Rounds
Length 18.4cm(L)
Weight: 0.78 kg
Write a review
Your Name:
Your Review:
Note: HTML is not translated!
Rating:
Bad
Good
Enter the code in the box below:
Powered By OpenCart APS Conception © 2018