Phantom Extremis Rifles MK2 Tan
Brand:
APS
Product Code:
PER702D
Reward Points:
600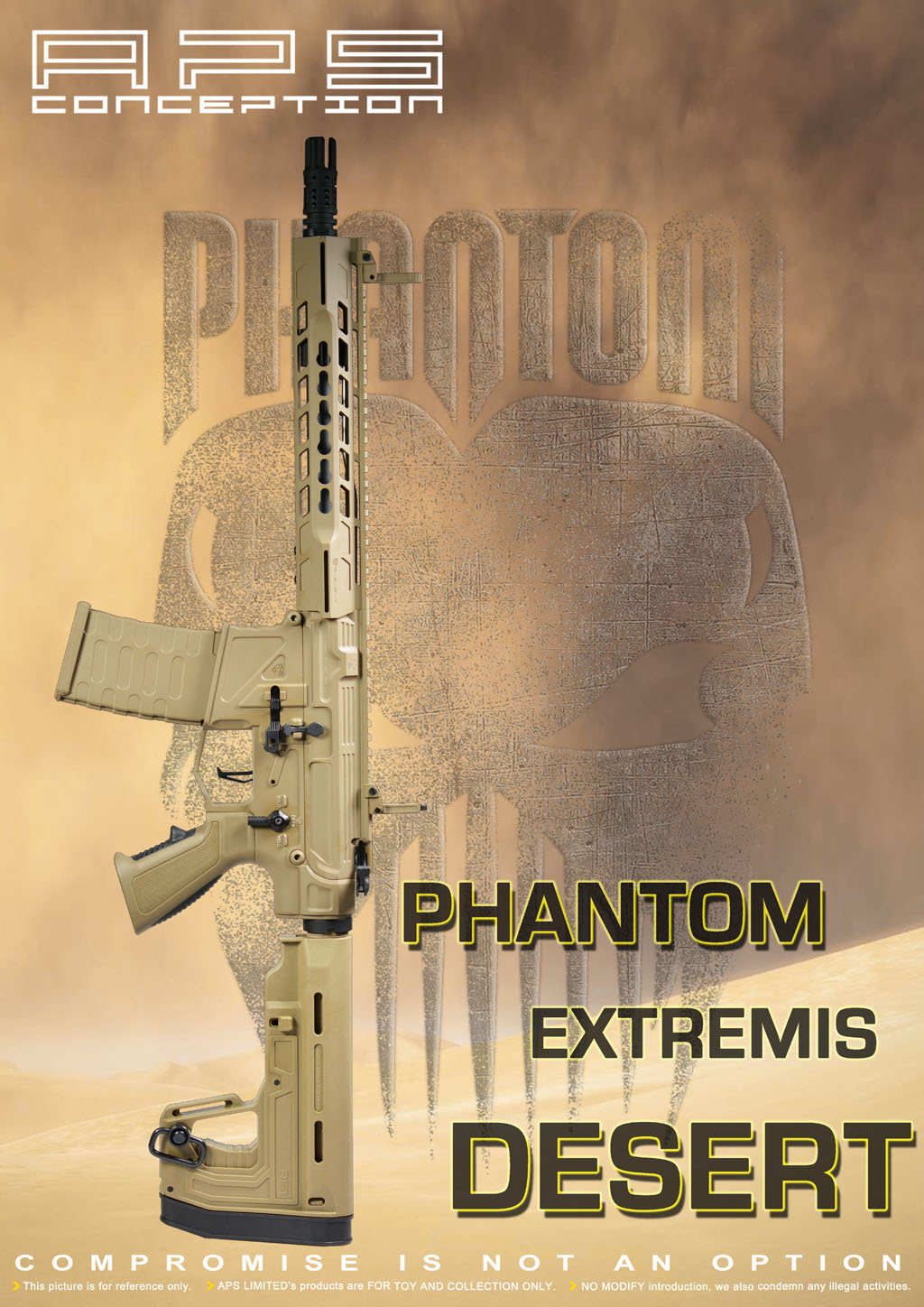 New Phantom Extremis Rifle is coming
After 2 years of research and development, APS proudly introduce two latest rifles that come with quick change spring design – Phantom Extremis MK1 and Phantom Extremis MK2 available in Nov 2016
Phantom Extremis MK 1 for 10" hand guard / Phantom Extremis MK 2 for 12.5" hand guard
Phantom Extremis Rifle (PER) Extremis is a tactical rifle that built for the user. It is a light weighted rifle with cyber looking that comes with the following cool features:
New Stylish Flash Hider (ICEFYRE Muzzle Break)
Slim and light weighted KeyMod Hand Guard with Hand Stop implied in the design, which give your support hand a low profile anchor point on the forend. – (Phantom Dash 10" / Phantom Striker 12.5")
New Phantom Low Profile Back Up Sight LP BUS (Brand New Design)
New Spaceship look alike upper and lower receiver with quick change spring features, user can simply remove the buffer tube and reach the gearbox's spring guide to do spring replacement.
New pistol grip (Phantom Overload) that pre-installed with Non-Slip EVA plastic in the front and rear increase the comfort of holding it. This pistol grip has shock absorption deign in the interior that reduce the vibration generated from the start up of the motor, thus relatively improve the motor performance and significantly reduce the battery loading to 10.5 Ampere.
New Blow Release Catch (Phantom Bolt Release)
New Ambi Magazine Release Catch on both sides (Phantom Ambi Mags Release)
New Ambi Fire Selector on both sides (Phantom Long/Short Throw Safety Selector)
New Ambi Charging Handle (Phantom Combat Ambi Charging Handle)
Flat Trigger (Enhance Control and lighter perceived weight)
RS-1 Stock installed (R Series Type 1 stock)
Use Lid & Tray Box Packaging with digital user manual (elegant)
To conclude, APS New Phantom Extremis Rifle is a future weapon for Airsoft friends. Its appearance looks sci-fi, the design of the body receiver is coming from the idea of a spaceship. We put all the advance features like Ambi switches and button for the players. As quick change spring Silver Edge Gear Box is highly reputed in the market, this PER rifle make full use of quick change spring function that benefits the user. We strongly believe this rifle will dominate the market in 2017.
Caliber: 6mm BB
Inner barrel size: 6.04mm
Energy Source: 8.4v Ni-MH Battery
Silver Gear Box Installed
8mm Metal Bushings
Velocity: 280~400 FPS (Upon Request)
Canada Version 400 FPS @ 0.2g BB
Maximum Range: 80 Meters
Effective Range: 30 Meters
Fire Selector: Safe / Semi Auto / Full Auto
Plastic Butt Stock, Hand Grip and Magazine
Metal Body, Gear Box and Hand Guard
Rate of Fire: 750 ~ 850 Rounds Per minute
Magazine Capacity : 300 Rounds
Write a review
Your Name:
Your Review:
Note: HTML is not translated!
Rating:
Bad
Good
Enter the code in the box below:
Powered By OpenCart APS Conception © 2018